Once again Badminton Horse Trials provided another cracking spectacle for the masses. A host of new names finished in the top 20 and a new winner in Paul Tapner. Yogi Brisener and the British Selectors must be scratching their heads though! Apart from the ever present Mary King, and Daisy Berkeley (and Daisy's horse is getting a little long in the tooth) there was a distinct lack of other British stalewart anywhere near the prize money.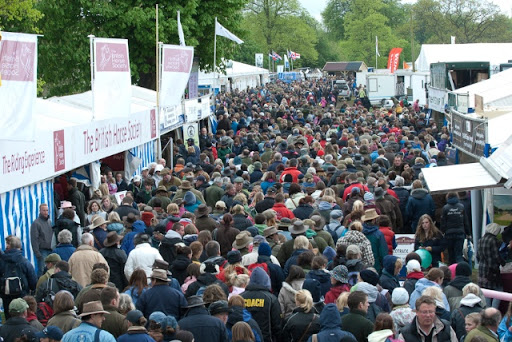 Moving the days to finish on a Monday, was of course predominantly done to avoid TV scheduling clashes with other sports (well football anyway). I recon the gate receipts would have been up though as there did seem to be a bigger crowd, and I'm sure the opportunity to cram in an extra day's action and shopping without the need to take time off work helped.
Now if you take a look at the
final results
the cross country phase was the most decisive phase, something we haven't seen at Badminton for some time. And having carefully watched a number of cross country rounds, I still believe the chaos on Sunday was generally due to complacency of riders, who walked the course when the weather was good and didn't take into account the effect this had on both the conditions and their horses.
I had just walked away from the Huntsmans Close when Desert Island fell, returning when I heard the commotion. What I found particularly distressing about this incident was the reaction of some of the crowd, who felt it necessary to scream and shout at the marshalls to 'grab the horse', and thus distressing the poor horse further. Having had to deal with several incidents of this nature over the past twenty years (including two of my own horses), the only criticism of Marshals should be not getting someone to make sure the course was 'held', but bearing in mind this was early on in the course at fence 7 and only a short gallop from fence 6 you can understand how the following competitor managed to get so close. A very unfortunate incident but not badly managed.
Now if you ask any rider or spectator the cross country phase is the one they all love and believe should have greatest influence. This year's course whilst not inspired has proved you do not need to build a 'horse frightener' in order to exert decent influence, or at least not in wet conditions.
This brings me onto my next point. Why do we not run cross country on the last day? I think this can only bring more benefit (especially to horses) and much greater excitement. If this were the case, making the allowed time would be the key to winning (Just take a look at how many horses made the time in the
XC results
). This would make for a far more exciting finale. If we are still running the current order of service because of some historic military reason, then all I can say is "We haven't used horses on the battle field for sometime"
Time for change!
Anyway, with a rare day off this weekend I'll be winding my way to Hambleden and with early times I might get a chance to film a few top riders ( I notice the new Badminton Champion and Mark Todd are both planning to be there), so might do a little report from one of my favourite events.
ps. that reminds me, it was amusing to watch Mark Todd during his Cross Country Round on the "Mark Todd (sponsored) Big Screen"